Since I first read the pdf version of Principles, I've been fascinated by the way Ray Dalio thinks.
It's true that his billionaire success is what drew me into his thinking, but it's the rigor of Ray's ideas that really hooked me.
Although I spend my life exploring ideas, I'm intensely practical. I'm not interested in philosophy or kicking around ideas for the sake of it, but in ideas that you can use.
And that's what I see from Ray.
He's deep, deep, deep on the topics he knows, but ultimately he's focused on identifying the best ideas so he can rigorously put them to work.
More Than Principles
While I find Ray's principles incredibly fascinating, what I most enjoyed in reading Ray's recently released book, Principles, was his story at the front.
Some time ago I remember seeing Ray quoted about failure, and thought to myself, With all of his success, what could he possibly know about failure?
It turns out, quite a lot.
In fact, the way Ray tells his story, it was failure that led him to develop his principles-based approach to begin with, so he could avoid making the same mistakes.
Writing with great humility, throughout the book Ray calls himself things like a "dumb shit," and suggests that the success he's created has less to do with him, and more to do with his principles.
While there's certainly some modesty in that, perhaps the greatest learning from Ray's book is seeing that it's not so much his principles that have driven his success, but the discipline and focus that Ray dedicates to living this way.
How Do You Live It?
In reading Ray's book I began to think more deeply about how, specifically, we each might develop and use our own principles.
Over some 40+ years Ray has developed many principles for his work and life, yet he implores readers to not follow his, but to develop principles of their own.
In his book Ray details 500+ principles—many of which he effectively puts to work using computer algorithms—and the trick in developing our own principles is to identify the right number of principles as well as a method for putting them to work.
Of course doing this can be extremely onerous, yet as I stepped into it deeper I could see ways to simply the process.
Doing this I started thinking about how I might more directly use principles I've developed for my work and life, and specifically began integrating them into the daily systems that I use.
Geeking out on this I took it a massive step further, and along with my partners we began fleshing out this detailed 70-page research report on how you Live Dalio's Principles.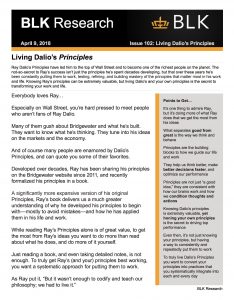 Inside, we lay out a three-step process for: 1. Identifying Ray's principles that are right for you. 2. Developing your own principles. 3. Utilizing systems to put your principles to work each day.
While I love thinking deeply on these topics, to be completely honest, just like Ray's approach, this approach is extreme.
Nobody "needs" to do this, but just as Ray writes about, anyone who applies this rigor to the way they work and live will surely drive more of what they want!